It threatens retailers' livelihoods
Criminals target children with illegal tobacco
It contains unregulated ingredients
Funding criminal activity, harming communities
It costs the government money that could be reinvested into society

Keep up to the date with the very latest tweets and new articles about the fight against illegal tobacco.
Our Suspicious Activity Reporting App (or SARA) launched across Imperial's salesforce in Jan 2018.
It's transforming the way the

#illegaltobacco

information is both reported and acted on.
The Government loses money which could fund extra teachers and police officers
Illegal tobacco and cross border shopping costs the UK government over £46 million a week in lost revenue
2
Imagine the other amenities this could fund in your community
Retailers' livelihoods are threatened
Illicit tobacco cost UK shops around 3.4 Billion in lost revenue in 2014-15
1
On average, small and local shops lost around £32k each
5
1 in 8 corner shops face closure as a result of illegal tobacco
5
Illegal tobacco contains unregulated ingredients
Illegal tobacco is entirely unregulated, and has been found to contain ingredients like dust, rat droppings and asbestos
4
Illicit trade is a criminal activity
Illegal tobacco is big business, yet compared to the consequences of drug smuggling, the sentences for those convicted of selling it are minute.
Criminals can make around
3
-
£6,500
per car load of illegal tobacco
£65,000
per white van load
£1.1m
per container lorry load
The UK is a hotbed for illicit tobacco. In 2014, illegal tobacco and cross border shopping represented approximately:
2 in 5
roll your own sales
2
One in three UK adult smokers now purchase illegal tobacco from pubs, market stalls and car boot sales
3
High tobacco prices play into criminals' hands
UK adult smokers pay £9.91 on average for a pack of cigarettes, the second highest figure in Europe behind Norway
1
Tobacco duty has risen by 40% in the last five years
1
, driving up RRPs
Tax accounts for 80% of the price of a pack of cigarettes
1
What are we doing about it?
Imperial Tobacco's dedicated anti-illicit trade team collaborates with customs authorities worldwide
Imperial and its tobacco industry partners have collaborated on new digital tools to help separate genuine products from counterfeits
About Suspect it? Report it!
The UK is a hotbed for illicit tobacco. It threatens retailers' livelihoods, damages communities and costs the Government billions in lost taxes. For years, Imperial Tobacco has been instrumental in the fight against illegal tobacco - both nationally and internationally. In 2013, our "Suspect it? Report it!" campaign was launched to illustrate the dangers of illegal tobacco by focusing on the repercussions it has on local trade, society and government.
The initiative continues to build momentum and achieve success on a national level. The 'Suspect It? Report It!' campaign has continued to gather momentum across the UK trade press. Thanks to continued collaboration between enforcement bodies across the globe, 2019 promises to be a landmark year in the fight against the trade in illicit tobacco.
Working together to fight the illicit trade. Suspect it? Report it! aims to:
INCREASE
Awareness and knowledge of various Anti-Illicit Trade initiatives
INITIATE
A drive to combat illicit trade across industry and society
INTRODUCE
A programme to up-skill colleagues, develop AIT champions and increase intelligence gathering
IMPROVE
Co-operation and partnership - working with stakeholders inc. the trade, Government, enforcement bodies and media
INFLUENCE
Current perceptions, including the idea that illegal tobacco is 'a victimless crime'
Latest Suspect it? Report it! Advert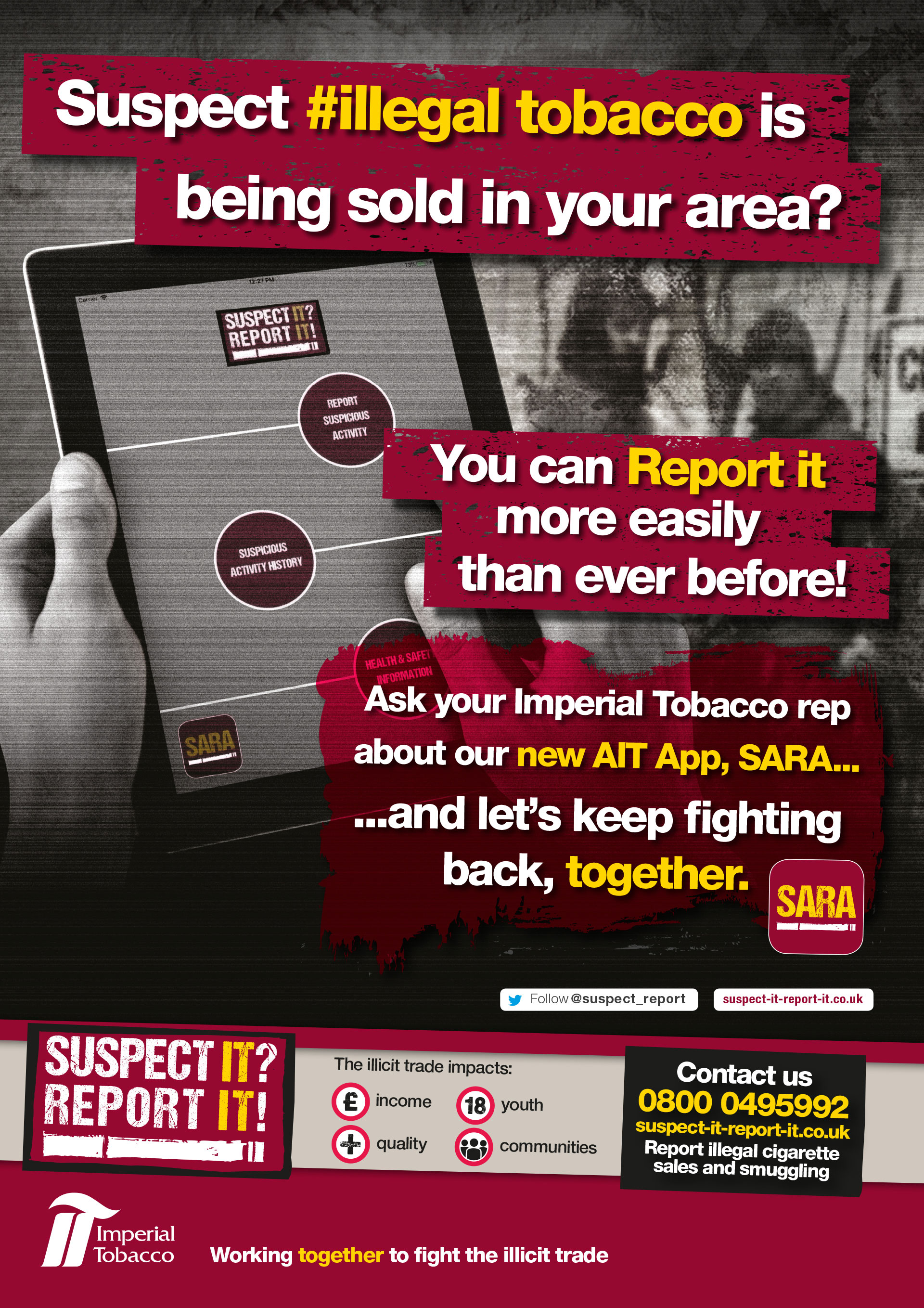 To find out more about the Suspect it? Report it! campaign, please contact us.
If you have any information relating to illicit tobacco in your area - or wish to report suspected illegal tobacco activity - contact us via this message board or call us now on:
0800 0495992
We collect and store your data in line with the terms of our Privacy Policy